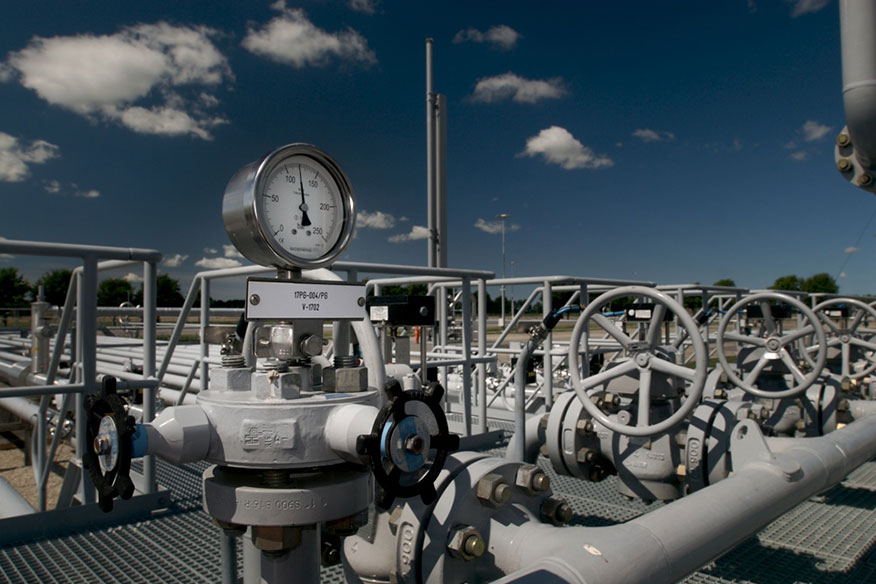 With over 30 years experience, The Gauge House has supplied endless companies with quality instruments. Keeping a large inventory in-stock helps us to keep up with our customers' demands. All of our gauges are top quality and meet the needs of any job.
Pressure Gauges

Digital | Mechanical Test Gauges

Differential Pressure Gauges

EZ Read Gauges

Gauge Snubbers

Diaphragm Seals

Temperature Gauges
Process Gauges

Safety Zone Reflective Glow Gauge

Subsea Gauges

Remote Reading Temp Gauges/Thermowells
Package Systems
Our package solutions provide a suite of instruments that work together to minimize maintenance and maximize productivity in any environment.
Test Labs

Pressure gauges

Needle valves & ball valves

Tube fittings & tubing

Pipe fittings

Regulators

Quick connects
Diaphragm Assemblies

Pressure gauges

Transmitters

Diaphragm seals

Cooling tower

Pigtail syphons

2/3/5 valve manifolds
SERVING YOUR AREA
Looking for new gauges, repairs, certifications, or calibration?
Contact us to talk to one of our experts right away!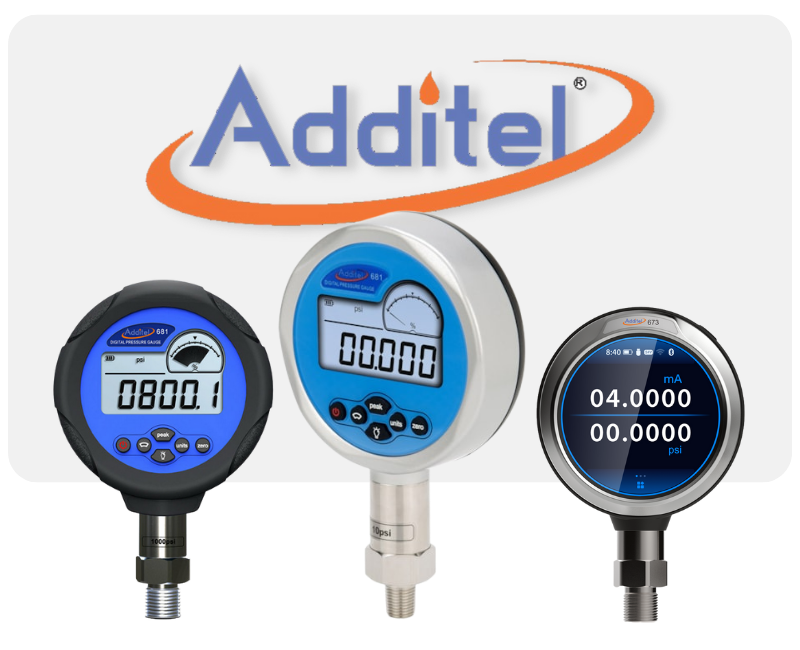 Additel Pressure Gauges
Pressure ranges to 60,000 psi (4,200bar)
Large, easy to read display with 5-digit resolution
Fully temperature-compensated accuracy from 14°F to 122°F (-10°C to 50°C)
IP67 rated: Submersible in 1 meter of water(681IS)
Data logging capabilities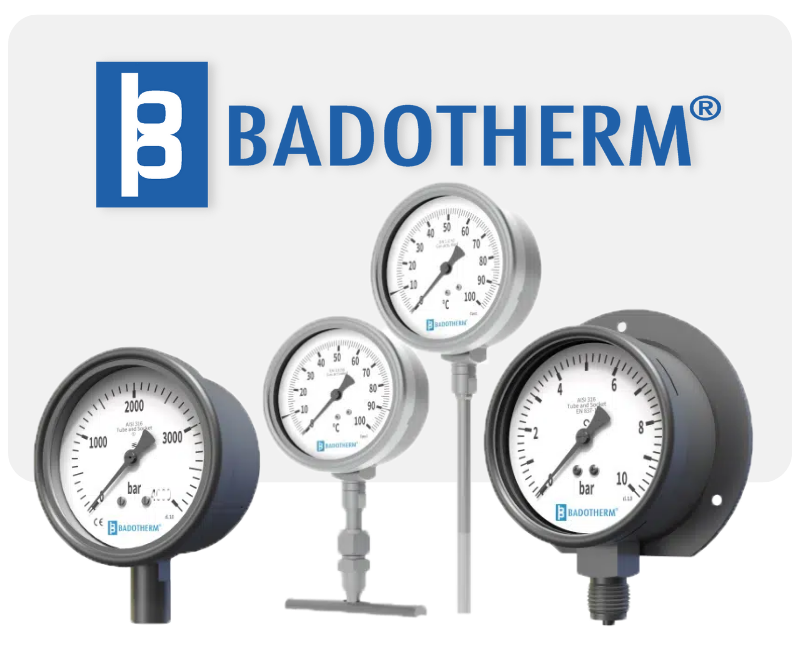 Badotherm Gauges
Stainless steel pressure gauges
Low cost and a simple and proven construction
High pressure ranges up to 100K PSI
Tube, Diaphragm, and Capsule pressure gauges
Founded back in 1957, a leading manufacturer of gauges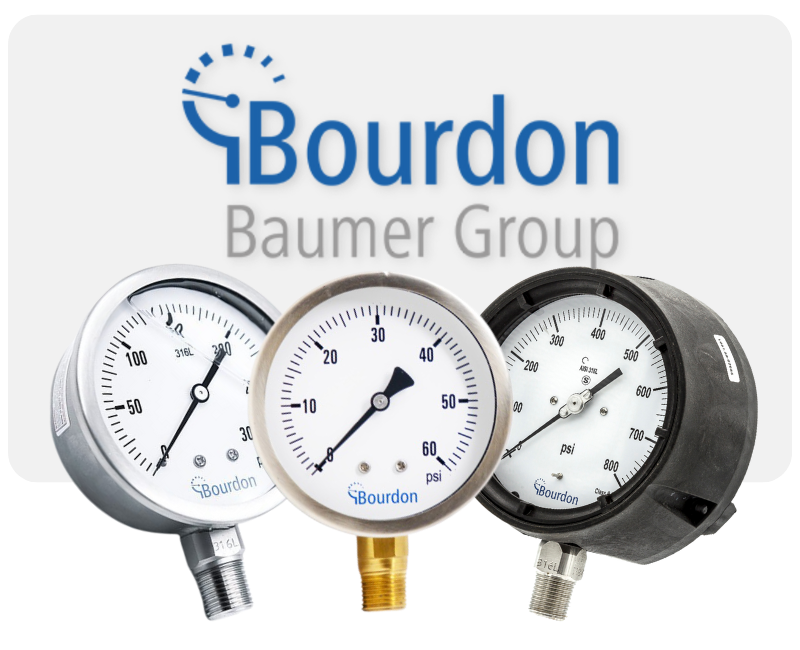 Bourdon Pressure Gauges
Pressure gauges for a range of applications
Includes stainless by brass, all stainless, and forged brass options
Polypropylene-cased and stainless steel or monel process gauges
Of the utmost quality, with polycarbonate instrument glass or safety glass and optional, customer-specific dials available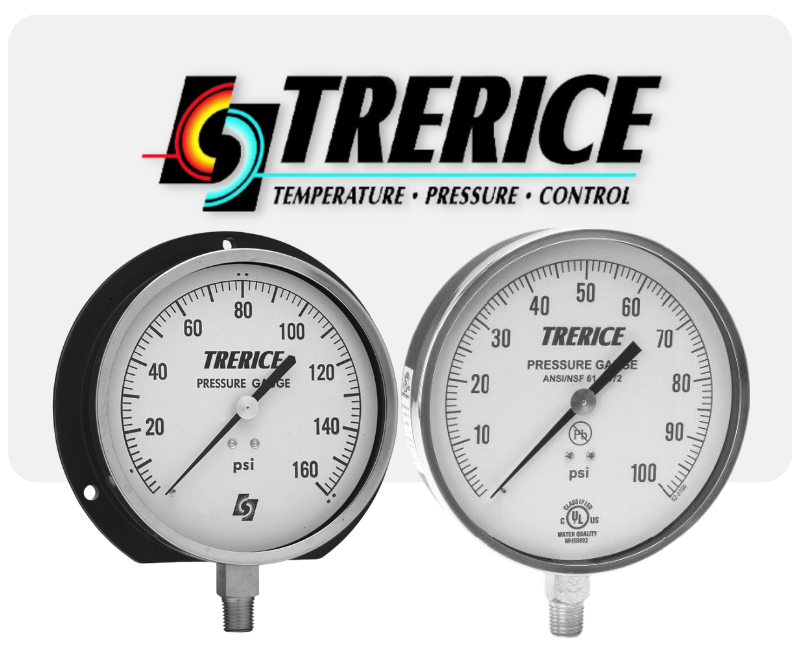 Trerice Pressure Gauges
Pressure, Process, Industrial, Commercial & Contractor, Utility, and Specialty Gauges
Suited for most process requirements
Accurate and durable gauges for a broad spectrum of industrial needs
Economically priced gauges suited for a variety of general applications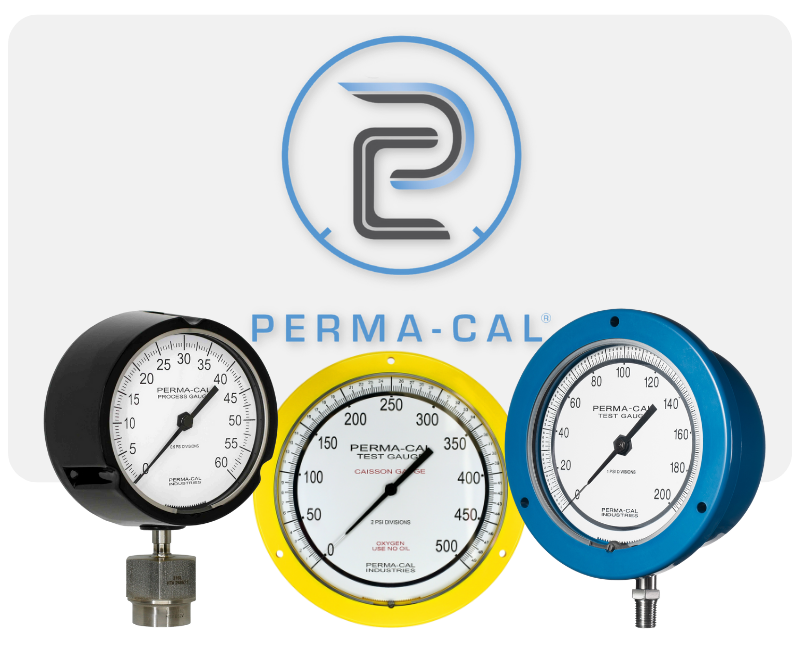 Perma-Cal Pressure Gauges
Unmatched vibration, pulsation and shock performance
Trusted in extremes from -65°F up to 600°F
Proof Pressure (over-pressure) of 150% F.S. exceeds industry standards
Accuracy is 25% less affected by temperature fluctuations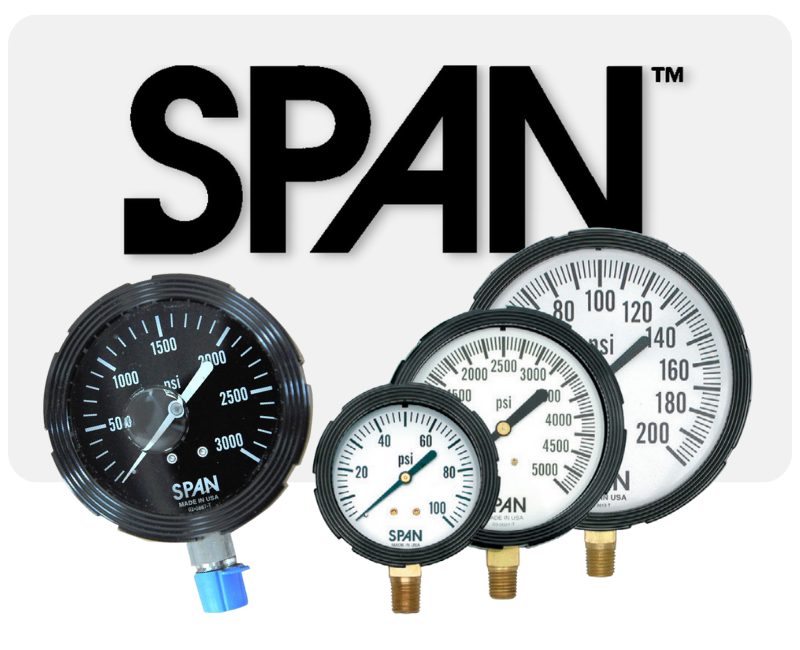 SPAN Pressure Gauges
Sub-Sea and Fire Apparatus Gauges
Liquid fill fluid dampens the gauge pointer movement for improved readings
Zytel case and ring offer good appearance and excellent resistance to chemical, weather, and corrosion attack
Manufactured in the U.S.A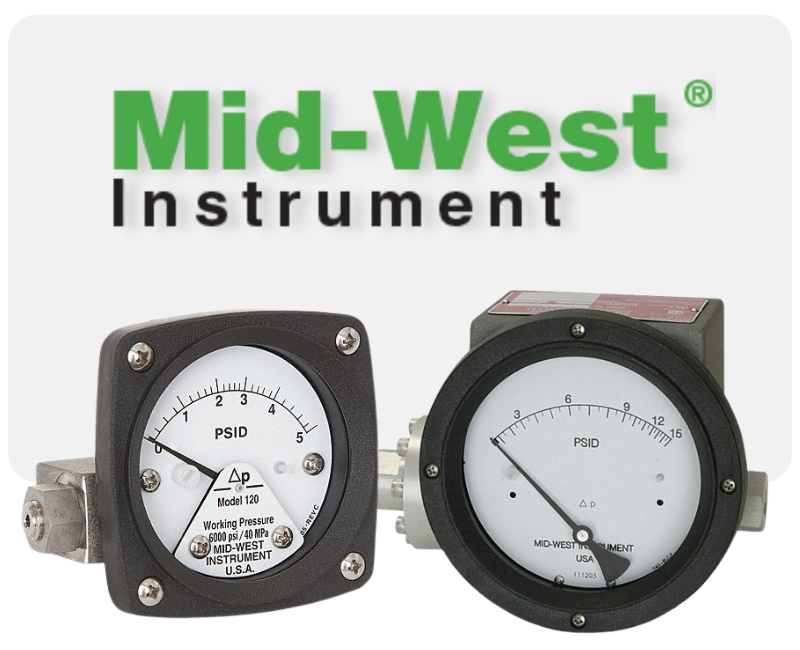 Mid-West Instrument Pressure Gauges

For applications from compressed air, water, lube oil, fuel oil to Natural Gas
Proprietary designs that are manufactured exclusively for OEMs
The right product, shipped on time, when promised, and as ordered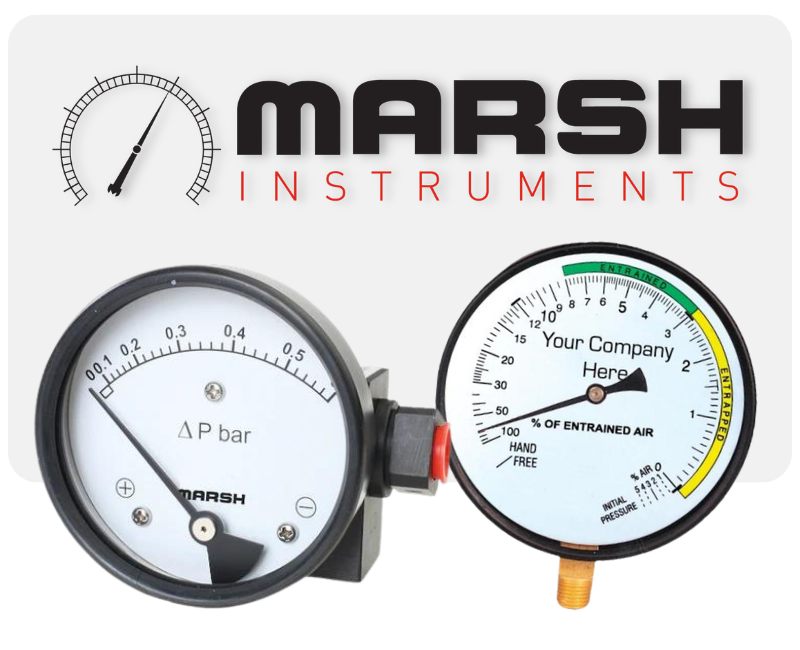 Marsh Instruments Pressure Gauges
From vacuum to 20,000 psi with copper alloy, 316 stainless steel, or Monel internals
From pneumatics to the most demanding industrial process
Standard and specially designed pressure gauges
Pressure Gauges
Pressure gauges are used to measure pressure in a system. They work by using a dial to display measurements, which can be read by the user or another device.
These devices are used in cars to measure tire pressure, and they are also used at home to measure water pressure.
There are two main types of pressure gauges: analog and digital. Analog gauges use a needle or pointer to gauge readings from a scale, while digital gauges use a digital readout on their faceplate instead.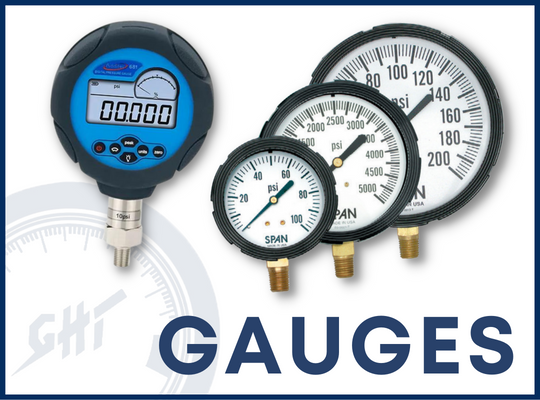 Frequently Asked Questions (FAQs)
What brands of gauges do you carry?
We carry several brands to meet each of your specific pressure gauge needs. For digital gauges we offer Additel, Perma-cal for direct drive gauges, and Bourdon for process gauges and everything in between.
What types of pressure gauges do you carry?
We cover the entire spectrum of pressure gauges, including pressure ranges from vacuum to 100,000 PSI. Whether you need digital or mechanical, process or positioner, stainless or Hastelloy C, we have you covered.
Which types pressure gauges are the most accurate?
Digital pressure gauges are the most accurate pressure gauges we offer, in 0.02% FS or .1% RD accuracy.
How can I tell if my gauge is accurate?
The Gauge House offers calibration services to handle this for you! A summary of the process is as follows: Pressurizing your gauge and a more accurate master gauge simultaneously and comparing the readings.
How do I choose a pressure gauge?
To choose the best pressure gauge for the job there are a few factors to consider, starting with the accuracy and pressure range required. Next, you should consider the size of the dial or "face" of the gauge. Then, the case material and wetted parts. This is particularly important when corrosive media is involved. Your final step would be to determine the connection size and location.
Get a custom gauge quote for your business.
Call or complete the form and a specialist from The Gauge House will contact you to discuss your custom gauge needs!